Kitano Interview Relay: 2nd interview with Ms. Aoi Hirayama
We, Core Eight team, are now interviewing those who live and or work in Kitano, Kobe to learn about "Life in Kitano". As the main English-speaking real estate agent in properties in the exclusive Kitano-cho area, Core Eight is happy to provide you with information beyond what is quoted from the magazines or the internet. We will give you this opportunity to learn about the actual Kitano life from the people who know and love Kitano!
I am Naomi, an assistant staff (now learning to be an agent) at Core Eight since last summer and I will be the interviewer. Kitano, Kobe has always charmed me as it does attract many others, but it was only recently that I started to see Kitano as a living place rather than a tourist place. Walking in Kitano in the morning to go to Core Eight's office in the heart of Kitano before all the tourist come was a wake-up call to make me realise the charms Kitano has as a residential area. I thought it was such a pity that most people do not know what Kitano has to offer. By interviewing those who know the actual residential life in Kitano, I wanted to learn about the hidden charms of Kitano and share them with you all.
Our second interview is with Aoi Hirayama, the president of mod Entertainment Inc.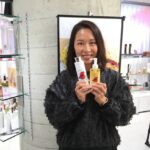 She has the experience of participating in Paris Collection and now she has an organic cosmetic select shop "cosme closet" in Kitano, Kobe. Her shop is on the second floor of a building "RIRAN's gate", which Tadao Ando built in 1986. Core Eight office is also in Tadao Ando's building but those two buildings look very different.
The building Core Eight is in is more "Kitano-like" as bricks being used and all but the building "cosme closet" is in is stylish and urban. Even before entering the shop, I could feel my excitement.
Q: Can you tell us about your shop "cosme closet" before we start asking questions about Kitano?
A: I met cosmetics that is safe enough to eat and vegan but those were pop and cute and good to the skin in LA
by coincidence. I thought I would love to open a shop if I were to sell the cosmetics that are "Colorful, Pop and
Catchy that are vegan yet girls feeling excited about them!". After I learned that there are needs of those
cosmetics in Japan, I set pop-up shops at PARCO in Hiroshima and Lucua 1100 and so on. By setting the pop-up
shop, I came to realize that it was necessary to have a flagship shop to show the people the view we have.
That's how "cosme closet", where only what I like using are sold opened.
Q: What is the reason of having your shop in Kobe? And why in Kitano?
A: "Atually we were really really close to set up a shop in a big shopping center.
There was a request to open a proper shop and we were about to sign the contract."
To open a shop in Kobe was decided as I have connection to this place and also Kobe has its history.
I started to look for a tenant in January, 2016 but I couldn't find a property that was ideal.
What I was looking for a tenant were:
*Not a newly built building which is brand new
*Having something urban yet cultural that also has history and culture of Kobe
I almost gave this up to look for a building with those criteria after some months and decide to open
a shop at a big shopping center. That was when this place was let for rent and I decided immediately
to rent this place and open a flagship shop here at RIRAN's Gate.
Another realistic reason of choosing this place over the shopping center is to be able to control the temperature.
At those shopping centers, it is difficult to keep the temperature for the cosmetics. Since they are all derived from
100% organic ingredients, having goods melted in the morning by the air conditioner sometimes happened
while having the pop-up shops. This place is idealistic for this temperature control reason too!

Q: What are the good points to have a shop in Kitano?
What is important when selling cosmetics is word-of-mouth.
化粧品は絶対口コミ。アメリカはまさにそう。だからこそお客様第一主義で
"北野の会"があったり地域の親しみやすさ、ぎゅっとしたコミュニティが北野にはあるのでいいお客様が多いです。
また、閑静なところで異色なポップなものがあることご遠方からくる方が多いので、と北野周辺の美味しいお店のリストをまとめたファイルを作ってらっしゃることに感動しました!
お客様第一主義がこういったところにも表れていますね。
温度管理のため暖房をきつくいれない分、さっとブランケットを持ってきてくださったり商品にも人にも優しいcosme closet。
化粧があまりにもお粗末だった私に5分で!と化粧をしてくださったのですが、
シェーディングなどTVで見るものなんかを一切使わず私の肌に合ったファンデーションをしてくださっただけで、
小顔効果がすごくてみんなで笑いが出たほどでした 笑
5分で虜にされてしまったので次回はプライベートでお買い物をしに行きます!
北野の魅力だけではなく、化粧をすることの楽しさも教えて頂きました♪
で話題性の意味でもよかった!と平山さん。
東京でお仕事をされていたこともある平山さんが、東京在住の方々に北野にお店があるというと「いいじゃん」となる。
全国的に神戸北野の持っているイメージがいいのも理由の一つです、と話してくださいました。
Q: Can you recommend restaurants or cafes that you like in Kitano?
A: Bakery – Ca marche
This is a very popular bakery in Kitano.
Chocolateier – L'AVENUE
The chocolatier has won No.1 chocolate award in the world
Thai Restaurant – Krua Thai
Ex-WBC champion, Hasegawa Hozumi owns this restaurant
Quiche – Quiche-ya
Quiche specialty shop
Japanese restaurant – Eita
This resturant is one Michelin-starred restaurant and customers of my shop goes to Eita
before or after visiting our shop.
They have a list of the nice restaurants they can recommend in Kitano for those who come from distance and appreciate this information. I felt their "Customer First" with this. Since their cosmetics has to be stored in the cool place, the shop is not as warm ad other shops. However, they bring us the blanket for us, asking us how we are time to time. I don't wear much…almost any make-up and they decided to make a change on my face using their products to show us and let us feel how their products are. After 5 minutes, half of my face was smaller and brighter!
They showed us charms of not only Kitano but also organic cosmetics!
Thank you so much, Ms. Aoi Hirayama, for giving us time to interview and give me a make over!!
For those who got interested in working and/or living in Kitano, please contact us!

---
English Speaking Real Estate Agency
CORE EIGHT 8 License No (1)11798