Ashiya-Okuike—Hyogo's Up-and-Coming Shangrila
For many city dwellers, the word "Shangrila" conjures up images of a remote, beautiful, peaceful, yet mythical place where life approaches perfection. Ashiya-Okuike, located 500-600 meters above sea level in the Rokko mountain range north of Ashiya proper, may be pretty close to this Utopian ideal according to local residents.
Okuike is a world unto itself. Surrounded by national forests on all sides, yet only a 15-minute drive to the conveniences, restaurants, and culture of the greater Kobe area, Okuike offers an almost retreat-like atmosphere of serenity and solitude that attracts many who desire their own secluded oasis.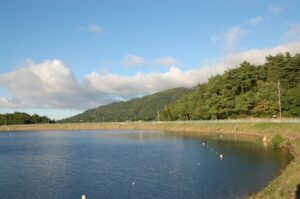 Until the 1990s, Okuike's generally affluent residents co-existed with hundreds of corporate vacation homes that still dot the scenery. However, in the wake of the sustained economic downturn, many Japanese corporations have been putting these properties on the market. Attracted by the rustic lifestyle and easy access to nature and the four seasons, there has been an influx of individuals and families to Okuike who have opted to renovate or restore existing structures or to design and build their own private sanctuary.
These days, residents of Okuike tend to be retired and economically secure, and range from company owners and telecommuters to creative professionals, such as artists, architectures, and designers. (Hint: Hiroko Koshino, a well-known fashion designer, has made Okuike her home for more than 20 years and even has a studio nearby. Check this out: http://www.kh-gallery.com/ashiya.) One thing they all have in common is a love of nature and an appreciation of the sweeping views that Okuike offers.
The architectural styles range from Swiss chalets constructed of wood and residences built of stone to the sleek, modernistic style of Tadao Ando and other renowned modern Japanese architects. Residential property includes new construction or renovated homes that may be suited for year-round residence or as a second home.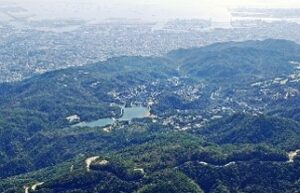 Ashiya-Okuike is a great place for buyers interested in buying a fairly large plot of land at an affordable price and building their dream house or buyers interested in renovating an existing house, where the price may be discounted due to the substantial cost that the owner would otherwise bear to tear down the house.  Okuike is also a great place for those for whom location is everything—the chance to live surrounded by mountains and forests and the scenery of four seasons.
Let's talk to two residents of Okuike to see what attracted them to Okuike.
Royi Akavia—Artist, Entrepreneur, Mentor, Devoted Family Man
Israeli-born artist and gallery owner, Royi Akavia, made the move to Okuike a little less than 1 ½ years ago with his wife and young son (currently 2 and very charming!). Prior to that, he lived in Osaka  and  Kanazawa for 6 years.
Royi was drawn to Okuike because it offered him the chance to live in a natural environment where he could personally experience all of the changes in the 4 seasons. At the same time, as his young son's primary caregiver and with the opening of a successful art gallery, the Kitano Alley Gallery (http://www.kitanoalleygallery.com/), in Kobe, he also appreciates the accessibility and convenience of Ashiya and the Greater Kobe area. It takes about 15minutes by car to Ashiya and there is also a regular bus service.
However, the deciding factor in favor of Okuike (as opposed to Megamiyama) was the privacy his current home affords his family, particularly his young son. Royi's house is aptly known locally as "the house among the trees." It is a 2-story, 119m2 70's style cement and wood house located on a 1117m2 lot, with 2 bedrooms, a home office, and ceiling-to-floor windows throughout. The best part—the surrounding trees and their canopy give a sense of absolute privacy!
Royi was able to negotiate a significant discount on the original purchase price based on the high cost the owner would otherwise have had to bear for tearing down the house.
For Royi, the advantages of living in Okuike are so overwhelmingly positive that he doubts he will ever move again. He notes that his neighbors are friendly, without being intrusive. When not working at the gallery, Royi paints and runs his company Koa Production and Animation, a website business,  from his home—but his first priority is always  his family.
The sole drawback—the annoyance of weekend drivers in expensive foreign sports cars that zip up and down the narrow, winding mountain roads, largely unchecked by the local police.
Masaaki Hisatake—Architect, Owner of Masaaki Hisatake Architects
Award-winning architect Masaaki Hisatake's reasons for moving to Okuike 14 years ago closely echo those of Royi Akavia—the  access to nature and the changing four seasons combined with having the conveniences of the Greater Kobe area within commuting distance. In particular, his wife has a passion for alpine plants, which only grow well in cooler climes like Okuike.
Looking at the body of work that Mr. Hisatake has amassed in over 200 architectural projects, one is struck by the philosophy behind his designs—the careful selection of materials and use of light and space that highlights the physical environment of each project. http://www.hisatake.jp/concept.
Mr. Hisatake notes that others reasons he preferred Okuike over places like Kurakuen and Megamiyama were the relatively easy commutability to Kobe and Osaka, and the general friendliness of neighbors. However, the opportunity to have stunning views of nature, forests and the like and to live in nature makes Okuike the perfect spot where he can  live and forget about the rest of the world.
Mr. Hisatake likens Okuike to a mini-Switzerland in Japan. The temperature is generally 4-5 degrees lower than in Ashiya, with comfortably cool mornings and evenings. The great expanse of open land gives a sense of peace and security. On the other hand, he notes that having 2 cars may make life more convenient.