Kitano Interview Relay: 1st interview with Rica Bradshaw
Kitano Interview Relay: 1st interview with Rica Bradshaw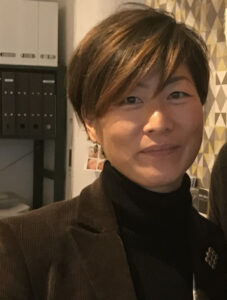 We, Core Eight team, are now interviewing those who live and or work in Kitano, Kobe to learn about "Life in Kitano". As the main English-speaking real estate agent in properties in the exclusive Kitano-cho area, Core Eight is happy to provide you with information beyond what is quoted from the magazines or the internet. We will give you this opportunity to learn about the actual Kitano life from the people who know and love Kitano!
I am Naomi, an assistant staff (now learning to be an agent) at Core Eight since last summer and I will be the interviewer.  Kitano, Kobe has always charmed me as it does attract many others, but it was only recently that I started to see Kitano as a living place rather than a tourist place. Walking in Kitano in the morning to go to Core Eight's office in the heart of Kitano before all the tourist come was a wake-up call to make me realise the charms Kitano has as a residential area. I thought it was such a pity that most people do not know what Kitano has to offer. By interviewing those who know the actual residential life in Kitano, I wanted to learn about the hidden charms of Kitano and share them with you all.
Our very first interview is with Rica Bradshaw, the owner of Core Eight Co.,Ltd.
Even though I have worked at Core Eight as an assistant staff, at first, I didn't even know whether she was Japanese, Japanese-American or half-Japanese and half-English. Everything about her seemed more Western than Japanese – the way she talks, dresses and acts. So, I had to even ask where she comes from to start this interview! Well, she turns out to be from Osaka, the same as me.
Q: Why did you decide to have your office in Kitano?
A: First, our customers are mainly non-Japanese people who are are interested in residential or investment properties in Kitano. I also love the "Chi – energy" around here. I love that Kitano is beautiful and being close to the mountains gives us the fresh air. Many old and historical buildings remain here and that makes Kitano charming! One of the things I love about Kitano is being able to feel history and nature close and this place seemed to be perfect to have Core Eight office.
Q: Why did you name the company Core Eight?
A:  8 is my lucky number and 8 is also a key number in yoga, which I have been doing for 9 years now.
Within the number "8", my wish is to work with others to create something with the energy coming from everyone.
In every action, having a strong "core" is essential. In everything I do, I try to incorporate the "8" in my life and the way I do business and business partners.
Q: Why did you decide to also live in Kitano as well as having an office there?
A: I wanted to make my everyday living area compact. It was and is my priority to have my son and workplace close. And well, I just always wanted to live in Kitano.
Q: What are the good things about working/living in Kitano?
A: I always feel happy being here in Kitano! I am happy at home and I am happy outside! There's a small alley near where I live, where old brick walls give me the images of the old days of Kitano. Historic buildings are just around the corner, in our daily life. The trend in Japan these days is usually to scrap old buildings and build something new. However, it is different here in Kitano as many historic buildings still exist. The impact the living environment gives us is indeed very big so having Kitano where there are happy vibes means a lot to me.
Q: Though you love Kitano, is there anything you would like to change?
A: There isn't anywhere to shop for kids' stuff. Of course, there are stylish kids' clothing shops and all,but for daily use items, there aren't really any shops around Kitano or Sannomiya for that matter. For this kind of shopping, we need to go to Harborland.
Q: Where is your favourite place in Kitano?
A: Core Eight Office!  Of course, I love my office, but the alley between the guesthouse in front of the office and Ijinkan (former residences of early foreign settlers) is one of my favourites!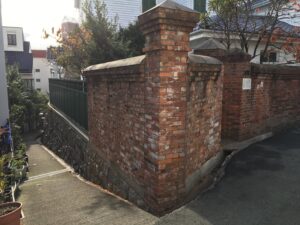 Q: Kitano is in the public school district for Kobe Elementary School. What is this public school like?
A: It is a public school, but it is very international as Kitano is multi-national. It has been a popular school district in recent years.
Q:Where do you usually go for daily shopping?
A: There's a farmer's shop near the office where I go and buy vegetable and some other things. They sell unusual vegetables, too.  I also shop at Halal food shop for Muslims. I also go to Co-op and have some food delivered. People in Kitano tend to care about organic food and life style.
Q:Which restaurants and cafes do you go to often?
A: Cake stand, Cafe de Paris, Comcoca…are the ones I go to regularly. At night, I like Nene and GROTH THE BAR that is in the building Tadao Ando built.
Q: You also run an art gallery, Kitano Alley Gallery, in Kitano.
What is the motivation/reason to do this besides your real estate business?
A: Well, I do other work so I can meet new people through it! I value the connections with people. The connection may start as business but by getting to know each other better through business, sometimes new projects are born! Everything is based on my instinct!
Thanks to her "instinct", I am here today writing this article!
I hope this series of the interviews on people living/working in Kitano will let you see the sides of Kitano, Kobe you didn't know as well as the people we interview.
For those who got interested in Kitano or life in Kitano, please contact us!

---
English Speaking Real Estate Agency
CORE EIGHT 8   License No (1)11798