Property ID : Kaycee Court 101
Rented
¥265,000 per month - Commercial, Office, Shop
Shop/Office property in Kitano,
on the street of former foreign trader's houses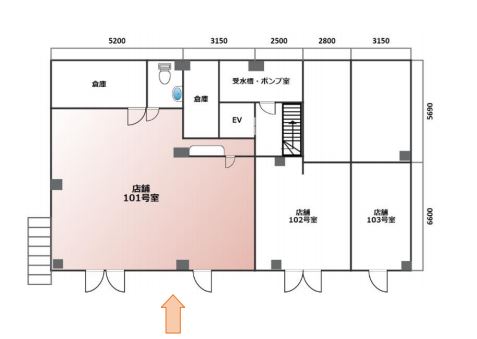 This property 101 on the first floor of Kaycee Court in Kitano, Kobe for shop or office use,  is equipped with 2 ceiling air conditioners and a good security system. Room 101 is 89.75㎡ and facing the street that has some of popular Ijinkans (Former trader's houses that have been popular with Japanese and foreign visitors) and also leads to Shinkobe station in few minutes on foot. The Kitano Green color and the brick of the building catches people's eyes and it is ideal to have a shop here.
It is conveniently located, 8 minutes walk from Shin-Kobe Shinkansen (Bullet Train) Station and 15-minutes walk from JR Sannomiya station.
Monthly Rent: 265,000 yen +tax
Other Monthly Cost: Common Service Fee: 25,000 yen +tax per month
Initial Cost: Deposit 3 months' rent + Key Money 3 months' rent
The first two floors have an arcade of shops and boutiques providing wedding related specialist services and the upper floors have luxurious residential apartments.
[This property can be divided into 2 spaces]
Condition for the bigger part 101-A
Monthly Rent: 180,000 yen +tax
Communal fee: 25,000 yen +tax  per month
Deposit: 600,000 yen
Key Money: 540,000 yen
Condition for the smaller part 101-B
Monthly Rent: 90,000 yen +tax per month
Communal fee: 10,000 yen +tax  per month
Deposit: 300,000 yen
Key Money: 270,000 yen