Property ID : RH-1 Kitano rental House
Rented
¥500,000 per month - Commercial, House, Office, Residential
NEW PRICE!!
House/ Home Office in Kobe near Sannomiya
About the Architect and the House
-This is rare property which is available in Kobe-
House search can be such daunting in Kobe Japan, especially if you are going through series  of  similar design houses and apartments.  This unique and dynamic House / Home Office was designed by an architect Koyama Ryuji . One of his early work in 90's. "RH-1″
This Contemporary Design house offers very unusual but comfortable space for residence or working space in a quiet, historical residential area Kitano cho, Kobe.
RH-1  House title – Semi detached House consists of three high ceiling modest size bedrooms, a spacious master bedroom with en-suite bathroom, a full size western style bathrooms on the first floor.
Two story but ground floor space is a covered parking and storage area.
Top floor consists of state of art kitchen fitted with quality international brand apprentices, south facing living and dining room, wall to wall window opens to spacious balcony overlooking Kobe city line and its sea.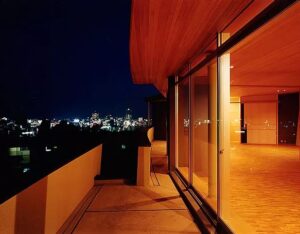 Because of the solid structure it also offers calmness and tranquility ambiance.
It is located on the top of hill of Kitano, famous historical zone, over looking city of Kobe and its sea, close to nature and surrounded by rash green hills, tranquil, nice neighborhood.
Huge house ground offers plenty of parking space for visitors and a tennis court for residents.
The house offers spacious and unique entertaining space that can host home parties and seminars up to around 50 guests.
I personally think this is a suitable place for creative office space such as writers, architects and all kinds of designers.
The previous tenant used the house as a seminar house, was very poplar and visitors from all over Japan.
After she left the landlord had a refurbishment and it is ready to show.
Access
Just 15 minutes up hill from central Sannomiya.
Located on the top of the hill just behind Ijinkan Kazamidori ( Weathercock house).
The Lease Condition
Refundable deposit: 500,000 yen
Non- refundable deposit 500,000 yen
General Two Year Lease
Company contract preferable