Property ID : Eboshi Heights Rokko 101
Rented
¥48,000 per month - Apartment, Residential
Very conveniently located nice compact 1K apartment
It may feel too small when you see the size as around 20㎡. It is not spacious but it is compact, nicely lay-outed and what is more, it has a big balcony that you can use. Having this big balcony makes the room look bigger and it welcomes more light into the room. AC unit and the gas stove are the facilities that the owner takes care of that is a plus point of this apartment. In this compact space, toilet and bath are separated and the kitchen and bedroom space are also separated with sliding door that is a bonus point!
The location is also great as it is 7 minutes walk to JR Rokkomichi Station where lots of shops, cafes, restaurants and a library are. Also 7 minutes walk from here will take you to Hanshin Shinzaike station as well.
There are 4 supermarkets within 5 minutes walk distance.
It's not only convenient but the parks are nearby to enjoy the change of the seasons too.
Rent: 48,000 yen/month
Communal fee: 5,000 yen/month
Deposit: ——————
Key money: 106,000 yen
Fire Insurance:15,000 yen/2 years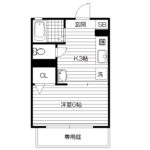 For more info, please feel free to message us!