---
Access
---
Rokkodainishi (#26) (4-minute walk)
Shindai Seimonmae (#36) (5-minute walk)
A 4-minute walk from the apartment to Rokkodainishi (#26) bus stop. A further 11-minute bus ride to Hankyu Rokko. A one per hour service that accesses Kaisei Hospital (International Hospital), Hankyu Rokko, JR Rokkomichi.
A 5-minute walk from the apartment to Shindai Seimonmae (#36)  bus stop. A further 7 minutes bus ride to Hankyu Rokko. A frequent bus service that accesses to Hankyu Rokko, JR Rokkomichi and Hanshin Mikage.
All the train lines are major lines that connect between Kobe and Osaka to Kyoto and Nara.
---
Overview
---
This originally 3LDK apartment was renovated into a 2LDK unit to expand the living space.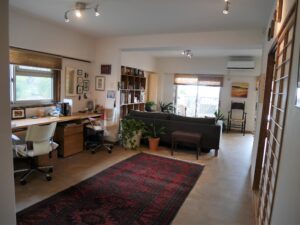 Located on the hillside of Rokko, a university town of Kobe, the apartment is situated at the foot of the Rokko mountain range where a natural stream runs right by the building.
The apartment is open to the south and the east, where natural light fills the apartment, giving a sense of openness.  The owner converted the original layout into a spacious open-plan design creating a vast room at the centre of the apartment consisting of a relaxing south-facing living area, dining area and study. The built-in long wooden counter worktop next to a window that overlooks the hills beside the apartment. The floor-to-ceiling bookshelves create a relaxing and classic living room and provide a sense of grounding that makes you never want to leave.
Right off of the spacious living and study area, the owner kept the original Japanese-style room. In contrast to the spacious living room area, this traditional Japanese room provides a space with a cosy and calming aesthetic.
The bathroom is another brilliant feature of the apartment. Unlike common apartment bathrooms,  sandstone tiles, a high-quality stainless steel shower head and a glass door give a modern, spa-like setting.
The washroom and toilet area is another artistic space that reflects on the owner's eye for art. Beautiful indigo blue tiles are used for the washing basin cabinet and a large mirror wall gives a sense spaciousness.
The kitchen has a modern Japanese sliding door that covers and hides the entire kitchen. The new buyer will need to replace the outdated kitchen units such as the stove and oven and adding more shelving to suit the buyer's needs.
There is a small room next to the entrance which is currently used as a walk-in closet and music practice room.
This property is walking distance to Hankyu Rokko Station, on the major Hankyu line between Kobe and Osaka. But if you prefer easy access there is frequent bus service within 5 minutes walk from the apartment.
Price: 12,800,000 yen
Monthly saving  for repair: 14,000 yen
Monthly maintenance fee: 7,900 yen
Area size: 74.45㎡
Built March 1971
Remarks:
No pets
Owner is currently living here thus please contact us for more details on a move-in date. (it will be after August 2020)
Parking space is not available now but there is a guest parking space that can be used.
Furniture is not included with the apartment
---
Features
---
---
Floor Plan
---
Heights Rokko 502