---
Details
---
Property area:
404.33 sq m |
Land area size:
1357.14 sq m |
Bedrooms:
12 |
Bathrooms:
1 |
Garages:
2 |
Year Constructed:
1926 |
Land Type:
Freehold
---
Access
---
7 mins. walk to Hikoneguchi Station
17 mins. walk to Minami-Hikone Station
---
Overview
---
The price of this kominka has been reduced from 48,000,000 yen to 38,000,000 yen!
How would you like to own a piece of Japanese history and preserve it for future generations? This is an old, traditional house centrally located in Hikone, Shiga Prefecture. The exact construction date is unknown. It has a 12DK floor plan with doma (traditional dirt floor kitchen), a storage house, and a tea house with a thatched roof. There are irori (hearths built into the floor) in in the main house as well as in the tea house.
You could make this your home, or you could use the house as a hostel or a cafe and let others enjoy its historical charm.
Hikone Castle is only two train stops to the north. You will also love being near Lake Biwa, graced by beautiful beaches and surrounded by snow-capped mountains. Shiga Prefecture is a history and nature lovers' paradise. However, at the same time you will be surrounded by modern conveniences. The nearest train station is only a few minutes' walk from the house, and there are many shops and restaurants nearby.
The area of the main house is 239 square meters. The house sits on 1357.14 square meters of land.
---
Features
---
---
Floor Plan
---
Hikone kominka, 1st floor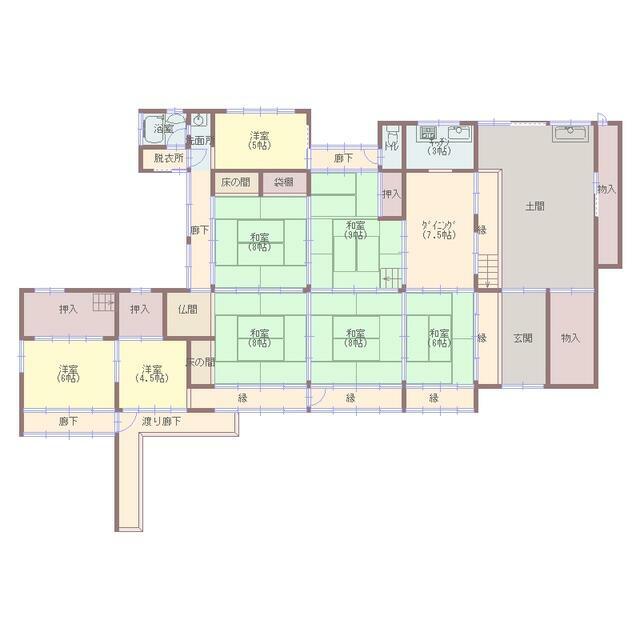 Hikone kominka, 2nd floor